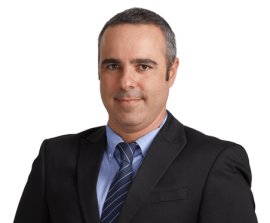 Guy is a partner in Lipa Meir's Litigation practice area. He represents banking corporations, insurance companies, real-estate entrepreneurs and the like in a variety of complex civil and commercial litigation cases. Guy also handles, inter alia, antitrust, defamation and administrative petitions (including tenders), as well as petitions to the High Court of Justice. In addition, Guy writes legal briefs and opinions in the fields of comparative and constitutional law, communications law and defamation and provides counseling to the firms' clients on these issues.

Guy taught courses in leading law schools, including at the Hebrew University of Jerusalem School of Law and the University of Virginia School of Law. Guy's scholarship principally deals with comparative constitutional law, focusing on freedom of expression. Among his publications are articles in the American Journal of Comparative Law, the McGill Law Journal, the Boston University International Law Journal, the University of Pennsylvania Journal of Constitutional Law, and the Connecticut Journal of International Law. His articles are cited, inter alia, by the Israeli Supreme Court.

Guy's doctoral dissertation titled "Dignity and Liberty: Differing Approaches to Free Speech in Germany, The United States and Israel" won The Gorney Prize for Young Researchers in the field of Public Law of The Israeli Association of  Public Law.
Education
University of Haifa (LL.B, 2003)
University of Virginia, USA (LL.M, 2005)
University of Virginia, USA (S.J.D, 2010)
University of Tel Aviv (M.B.A. 2020)
Certification
Israel Bar Association, 2004.