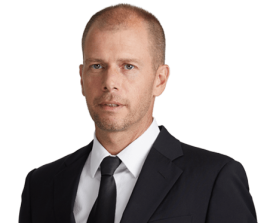 Gad is a partner in the firm's Corporate Department.  He joined the firm as an attorney in 1997 following an internship in the firm.  Gad specializes in a full range of civil and commercial legal fields. He represents and advises corporations in a wide range of international and domestic corporate and commercial transactions, including investments, mergers and acquisitions, public and private debt and equity financings, insurance and capital markets.

Gad has extensive experience in corporate rehabilitation and reorganization, creditors arrangements (including outside of the court), stay of proceedings, receivership and liquidation, schemes of arrangements (including Section 350 cases, bankruptcy related cases and cross-border insolvency matters), financial reconstructing and provides related legal services and advise to both companies and creditors of companies.

Gad also acts as legal counsel to the Kibbutz sector regarding its various business activities in the areas of the Kibbutz industry, agricultural activities, Kibbutz organizations (regional and national), etc.
Education
Tel-Aviv University, 1997 (LL.B, magna cum laude, 1997)
Tel-Aviv University, 2003 (LL.M)
Certification
Israel Bar Association, 1997
News & Publications