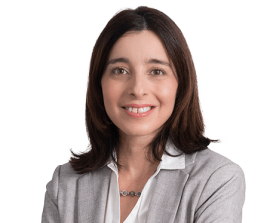 Head of Cyber Affairs & Artificial Intelligence
Vered is a partner and the head of Cyber Affairs & Artificial Intelligence practice. She is an expert in Cyber Law and Policy. She holds a wealth of experience both at the national and international levels, gained from her previous roles as the Legal Advisor for Technology and Cybersecurity Affairs at the Israel Defence Forces (2013-2017) and as the Head of International Cyber Policy and Initiatives at the Israel National Cyber Directorate (2017-2019).
Prior to joining Lipa Meir, Vered has led International Cyber Policy affairs, working closely with different governmental ministries and national authorities in Israel as well as with international counterparts. Vered represented the State of Israel at the UN OEWG (Open-Ended Working Group), on cybersecurity affairs. She was a Vice-chair and bureau member of the Working Party on Security in the Digital Economy at the OECD.
In her roles at the Military Advocate General's Corps, she has worked with high-level decision makers and provided legal advice in fields of international law, administrative law and civil law. She represented legal positions at the Knesset (Israel Parliament) and before ministerial committees, participated in contract negotiations and provided legal advice regarding legal proceedings.
Currently, Vered is also a Board Member at the Israel Internet Association (ISOC-IL) and a Research Fellow at the Hebrew University - Federmann Cybersecurity Research Center. Previously, she was a member of the steering committee of the Haifa University Cyber Law and Policy Research Center.
Vered provides legal advice to a broad range of clients of all sectors, both public and private entities, including technology companies, financial & insurance companies and other industries. She brings to her practice a strategic vision, a profound understanding of the international cyber arena, vast knowledge in governmental and regulatory interfaces, and the ability to "translate" technological terms to legal and policy terminology.
Education
LL.M Tel Aviv University, Public Law, Magna Cum Laude, 2006
M.A. Tel Aviv University, Executive program Political Science, Diplomacy & Security 2012
LL.B Bar Ilan University 2000
Certification
Israel Bar Association, 2000
News & Publications