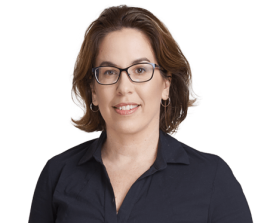 Yael is a partner in the Real Estate and Hotel department at the firm, with vast practical experience accompanying clients on their transactions, from the very acquisition of land, the drafting of the transaction, support during the negotiations to the signing of the contract documents and the construction of the project. Within an extensive practice, she advises on a wide variety of real estate projects, sale and purchase transactions, combination deals, contracting and execution agreements, consultancy agreements, urban renewal projects, rental income management, residential and commercial projects.
Sharing the firm's commitment to the utmost professionalism and creativity, she brings an extensive roster of private entrepreneurs and public and private corporations experience drawn from a successful track record as a senior attorney at some of Israel's other leading firms.
 Yael has a license to act as a notary as well as certification from the Ministry of Justice, the General Guardian, to carry out a continuing power of attorney.
Education
Master of Laws (L.L.M), Faculty of Law, Tel Aviv University (2004)
BA in Management, Faculty of Management, Tel Aviv University (2004)
Bachelor of Law (L.L.B), Faculty of Law, Tel Aviv University (2001)
Certification
Israel Bar Association, 2002
News & Publications