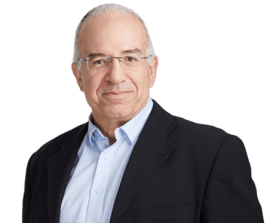 David Weinstein is a partner in the Corporate and Commercial Department, which leads and manages the Firm's multi-disciplinary activities in all matters pertaining to agriculture, rural settlement, cooperative associations and Kibbutz communities.

David specializes in a range of legal and commercial fields. He has unique expertise in all facets of Law pertaining to agriculture and rural settlement systems and has many years of experience in the field of insolvency and restructuring.

Based on the combination of David's legal skills and the knowledge acquired during his years of practical economic and financial management in the business world, he specializes in the accompaniment of community managements and a wide range of agricultural enterprises; the formulation of economic and organizational reforms, the construction of economic recovery programs, debt restructuring appropriate for the specific needs of agricultural enterprises; pension and actuarial arrangements and more.


Education
Bar Ilan University (B.A. in Economics & Israeli History, 1988)
Ramat Gan College (LL.B., magna cum laude, 2001)
Certification
Israel Bar Association, 2002
News & Publications